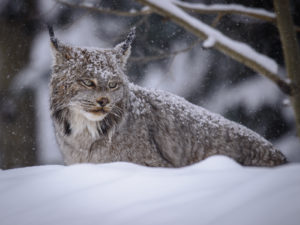 Colorado's I-70 Mountain Corridor spans approximately 144 miles from Golden to Glenwood Springs, traversing five bioregions and covering an elevation gain of over 5,000 feet. The highway travels through some of our wildest places, connects people to our most popular skiing and outdoor recreation areas, and cantilevers above the Colorado River in Glenwood Canyon along one of the most beautiful stretches of roadway in our country.
Yet, for all its beauty and wonders the corridor has a dark side. Each year over 300 animals are hit trying to cross I-70. From bighorn sheep to lynx our native species are losing their battle to cross six lanes of high speed traffic and concrete barriers. And, those numbers don't reflect the full impact of the roadway. Traffic levels on I-70 are actually so great that most wildlife avoid the roadway all together, thus completely severing their traditional movement patterns through the Rocky Mountains.
But, there is a solution! In 2013, after years of study, the Colorado Department of Transportation identified and approved a site on I-70 to construct the area's first wildlife overpass. This overpass, proposed at milepost 192.3 on the east side of Vail Pass, will reconnect habitat from the Eagles Nest Wilderness on the north side of the road to Holy Cross Wilderness on the south side of the road. We call the project the I-70 Wild Byway and we need your support to make it a reality.
The goal of the Wild I-70 Audio Tour is to raise awareness about the need for wildlife crossing structures, and to build the resources and political will to construct the I-70 Wild Byway.